SANITARY FOGGER™ launches the Kickstarter campaign for its Sanitary Fogger that helps flatten the covid-19 curve.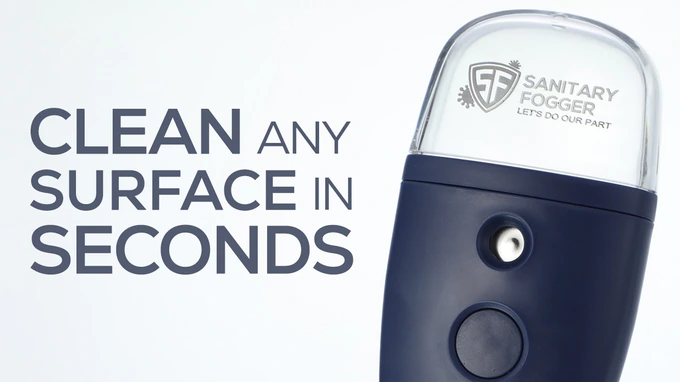 Sanitary Fogger is a perfect solution to clean anything at any time.
SANITARY FOGGER™ is pleased to announce the launch of its Kickstarter campaign to the world. With the rapid rise of the covid-19 cases and the estimates of the Public Health Agency of Canada, the country could see up to 20,000 new coronavirus cases a day by the end of December — five times what the country experienced at the peak of its spring wave. As a result of this, it is now important than ever to introduce a lasting solution that will flatten the curve if used properly. With the determination to make the world a safer place, SANITARY FOGGER™ introduces its amazing device that perfectly cleans any kind of surfaces.
While talking about why the device was invented, Cori Robson, the founder of SANITARY FOGGER™ stated "The covid-19 cases are increasing daily. Does that mean people are not adhering to the rules? Are the measures like using a mask and social distancing to limit the spread of the virus working? We really can't sit around waiting for answers". "What we can do is take steps to protect ourselves, our loved ones, and help flatten the curve. That's why we took it upon ourselves to create an innovative, safe, highly effective, and eco-friendly solution". She added.
Introducing the SANITARY FOGGER
To support this campaign, please visit – http://kck.st/3oRCs01
The quick and easy way to sanitize absolutely anything at home or on the go! This compact, rechargeable device easily fits in a pocket or purse allowing everyone to take it virtually anywhere.
The Sanitary Fogger's 25 ml reservoir complies with airport security regulations for carry-on luggage and this makes it easier for everyone to fog their seating area and restroom on the plane. Sanitize anything from bus seats to books, shopping carts to gym equipment, and even pet bedding. The Sanitary Fogger is for anyone wanting to feel a litter safer when venturing out to tackle their day.
The best part of the SANITARY FOGGER
Kids are not left out. The compact size means kids can keep one in their jacket pocket or backpack so it's always in arm's reach. It's easily rechargeable via USB cable and available in six colorful styles. The Foggers even have a place on the back for children to write their names.
To learn more about the Sanitary Fogger and be the first to get one through their recently-launched Kickstarter campaign. There are currently special holiday deals running where 2 Sanitary Foggers can be gotten for the price of one, but hurry, they won't last long! Click here to get a Sanitary Fogger.
To support this campaign, please visit – http://kck.st/3oRCs01
Media Contact
Company Name: SANITARY FOGGER™
Contact Person: Media Relations
Email: Send Email
Country: Canada
Website: http://kck.st/3oRCs01