April Book Launch by Spectrum of Thoughts Publication, a unit of FanatiXx
After achieving a milestone of 500+ book launches in 1 year before lockdown, Spectrum of Thoughts launched 32 Anthologies in April, with a huge variety of theme, genre and languages.
Spectrum of Thought Publication is an Odisha-based Anthology publishing platform in India. Established in 2019, the firm has achieved a milestone by listing more than 500 books till now. It has a global reach with the root sailing right from the inner corners of India to America, so forth, and so on.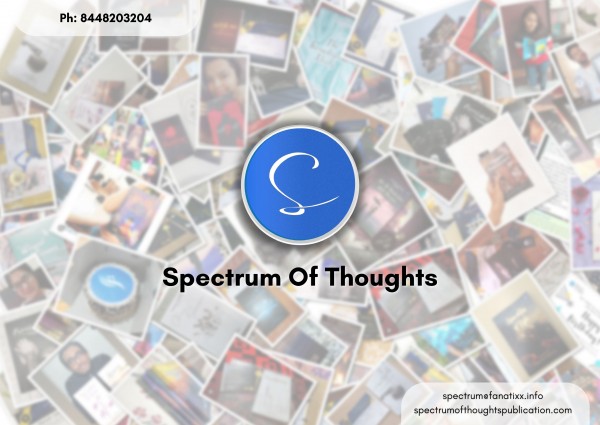 SPECTRUM OF THOUGHTS PUBLICATION launched 32 books all over India on 30th April 2021. During this pandemic, the writers and the readers have developed leisure time to grow and to gain more knowledge in the field of writing. These 32 anthology books published by Spectrum of thoughts Publication, FanatiXx is one of the matriarch proofs that reading can help anybody to relieve stress. The anthology books have different concepts and themes on them right from love, teen fiction, romance, horror to arts and pets. The thought process in all the anthologies penned by 1500+ writers & co-authors has many perspectives. While reading a book you can see that the budding writers have tried their best to make a point that they reach the heart of the readers. The compilers' handwork for around a month or two has been portrayed in such a beautiful manner. Each book cover has a story, an unsaid emotion, and a very clear expression. Designs of these covers are beautifully carved and made by the designer.
SPECTRUM OF THOUGHT PUBLICATION, BY FanatiXx focuses on giving a platform to all budding writers who want to grow in this field. We not only publish the anthology but promote it individually based on their characteristics. Also, there is a special opportunity for free workshops wherein writers are taught some creative writing gist and different forms of writings. Special activity and procedures are carried out once in 4 months to enhance the culture of the writing industry. "A special video is made of mostly all anthologies and used as a promotional tool so that writers are recognized. Also, we will be forwarding the game of Book Review and Book launch supported by Virtual Book Tours in the coming days. There are many surprises planned for now," says the Publishing Head, Mayuri Valanju.
In the book, "The Vow of Youth", the young budding writers have penned their dreams and vows to themselves, a written promise that they made. "Movie Mania" another unique book or all movie blockbusters, the fans of all film industry have penned their favorite stories and poems related to the movie they love the most. This pandemic started from 2020 to now, instilled values and dedication amongst the youth and everyone who understood how life is and hence planned and tried to dedicate the coming years to their dreams, their families, and the things they are looking for, "My Diary of 2021" holds all those secrets of these writers. We love songs we love stories. How it is when you read a story and it connects to songs? Lyrical writing another new concept by the writing world gifted to those writers has many such writings in the book known as "Kahaani Unplugged" you will dive right in and love the melodies.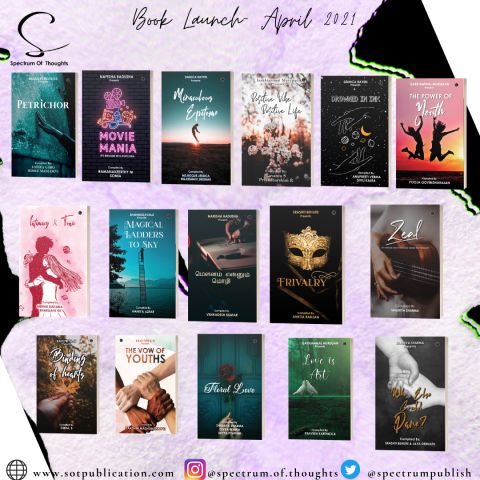 All these anthologies by budding writers published by Spectrum of thoughts have a certain impact on readers and writers.
Check our Instagram Presence HERE.
Check Out the Blog HERE.
Media Contact
Company Name: FanatiXx
Contact Person: Mayuri Valanju
Email: Send Email
Phone: 8448203204
Country: India
Website: www.sotpublication.com