The Professor Who Broke the Mould, an Autobiography by Dr. Parag Diwan released worldwide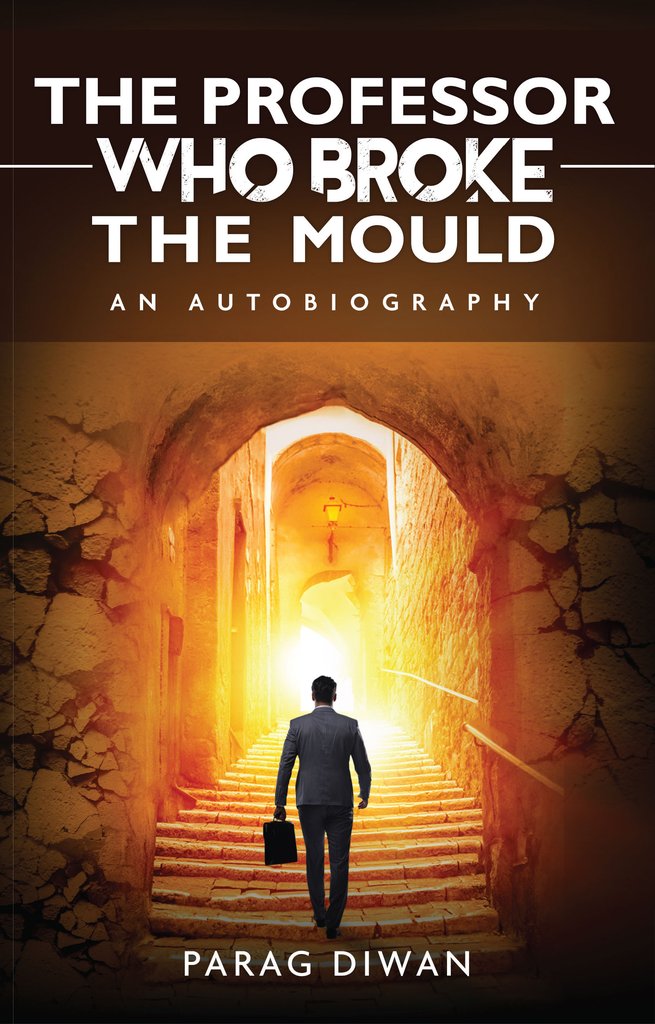 The story is interwoven with tales of institution building and a nation in transition. A poignant narrative of a man pushing himself hard to accomplish his goals with an entrepreneurial zeal. A tale of a quintessential family man never forgetting the well-being of family, friends and colleagues.
An untold story of a man who lived life differently breaking the mould of a typical academic.
"The Professor Who Broke the Mould" written by Dr. Parag Diwan and published by White Falcon Publishing is an interesting chronicle of exploration of a life's trajectory with a nation in transition. Through anecdotal approach, the book captures author's thoughts, eureka moments, and life lessons of building academic institutions that are lasting in nature.
Through reminiscences this autobiographical story invokes many insights about the major events that have shaped India into what it is today. He engages the reader with his entrepreneurial perspectives with strong conviction regarding institution building.
This book is meant for both academicians and professionals in other walks of life who wants to follow a path less trodden. It also dispels the myth that true blue academics cannot become entrepreneurs. Through the encapsulation of life lived differently, this book could inspire many to see how personal goals can be achieved along with the public good.
Author Quote
"It is easy to think that the time has passed us by, it is too late to have a new dream. We may have reached some of our goals and now it may seem like we are just cruising along. Or maybe we feel we are too old to start on some exciting new journey. In my view, we should always have a goal and a dream to pursue, as this is when we are in our happiest state of mind".
About the Author
Dr. Parag Diwan was brought up in a scholarly family in Chandigarh. From childhood he imbibed the complexities of the higher education system thus developing an innate desire to contribute to higher education.
He began his career with a high technology company to develop integrated circuits for consumer, space and defence applications, a necessity for a rapidly industrializing nation. During the time when India due to its economic reforms, was on the cusp of high growth, he was invited to join All India Management Association (AIMA). As young Dean and Director, he picked up the gauntlet to create new paradigm for distributed management education affordable to large number of young professionals who made up the emerging workforce of modern India.
In 2003, he became the youngest Vice Chancellor in the country at University of Petroleum & Energy Studies, (UPES) India. This university has created new paradigm where the domains of energy and education intertwined. As India's first ever domain focused university providing cutting-edge education and research in energy, infrastructure and transportation sector. Under his dynamic and creative guidance, UPES emerged as the largest creator of talent for nation building.
To reach the author, please visit:
Website: www.paragdiwan.com
email: [email protected]
LinkedIn: https://www.linkedin.com/in/drparagdiwan/
The book is available for sale on global Amazon channels.
Indian Readers can buy copies from:
Amazon: https://amzn.to/35xdH1B
Flipkart https://bit.ly/3iMfms1
WFP Store: https://bit.ly/3q6QCfI
#ParagDiwan #DrParagDiwan #Autobiography #Professor #AutobiographyUPES #ViceChancellor, #SuccessfulEntreprenuer #TheProfessor #WhoBrokeTheMould #WhiteFalconPublishing #booklovers #bookworm #amreading
Media Contact
Company Name: White Falcon Publishing Solutions LLP
Contact Person: Media Relations
Email: Send Email
Phone: 08283843446
Address:SCO 70, Second Floor Sector 47D
City: Chandigarh
Country: India
Website: https://whitefalconpublishing.com