Mangia Bakery Introduces Romantic Valentine's Day Menu for Lovers to Indulge in Sweet Delights
Mangia NYC, the iconic New York eatery, has its bakery team hard at work creating delectable desserts to fall in love with this Valentine's Day.
January 24, 2023 – New York, New York – Mangia Bakery is celebrating love in the most delicious way possible with the rollout of its 2023 Valentine's Day menu. This year's menu features a tantalizing array of sweet surprises and romantic desserts perfect for celebrating love with a loved one, a friend, or just to express love and gratitude.
Sweet Surprises
"The secret to a great dessert is the quality of ingredients." This Valentine's Day, Mangia & Leonidas present an exquisite collaboration with heart-shaped bonbon chocolate from Belgium's master chocolatier.
What's more, the special Valentine's menu includes scrumptious treats such as fresh chocolate-dipped strawberries to win her heart, strawberry custard tarts, red velvet cakes, champagne macarons and cupcakes, and cookies made fresh in-house. In the Mangia bakery, natural ingredients such as premium European chocolate, California almonds, farm fresh fruits, and organic eggs replace flavor enhancers, dyes, and other synthetic additives.
"You'll never be able to go back to ordinary store-bought sweets," says the Mangia bakery team.
All treats are lovingly baked daily in-house and are available for purchase online with a few clicks for delivery or in all Mangia locations until February 14, 2023.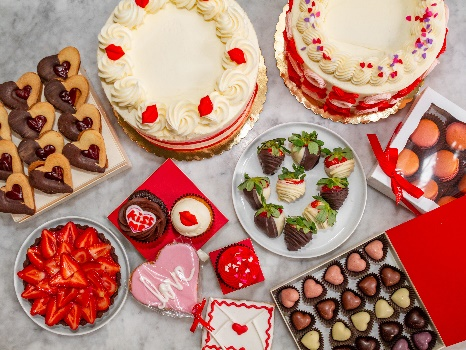 About Mangia NYC:
Mangia NYC is a New York City-based gourmet restaurant chain that has been renowned for more than four decades as the leading artisan Italian eatery at the forefront of the farm-to-table fresh ingredients movement and on-demand sustainable catering. Their Valentine's Day menu features a variety of the restaurant's famous bakery delicacies, including their legendary chocolate dipped strawberries.
CONTACT: To learn more about Mangia NYC, the Valentine's Day menu at Mangia Bakery, or to arrange an interview for an article, please contact us.
Address: Mangia NYC 50 W 57th St, New York, NY 10019
Social Media:
https://www.instagram.com/mangia_nyc_official/
https://twitter.com/Mangia_NYC
https://www.facebook.com/MangiaNYC
https://www.pinterest.com/mangianyc/
Media Contact
Company Name: Mangia NYC
Contact Person: Sasha Muniak, Founder
Email: Send Email
Phone: (212) 980-6363
Address:50 W 57th St
City: Manhattan
State: NEW YORK 10019
Country: United States
Website: https://mangia.nyc/