After the hit single "Aaliyah's Four Page Letter", Honour Watkins is launching his first independent project "Pain, Mental Health and Love"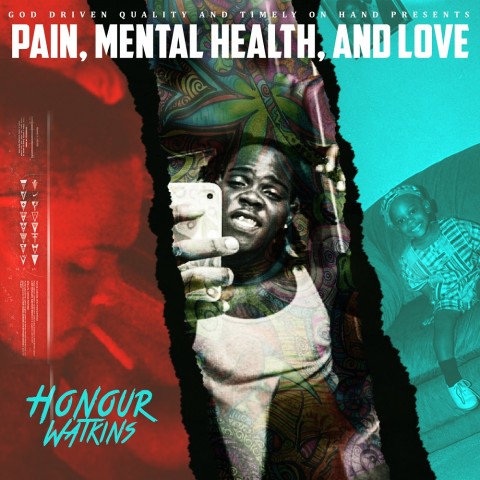 Honour Watkins is often known for his Rap / RnB genre of music. Being exposed to music and its production, from the age of 12 to 13 years, by his next-door neighbor, who soon turned out to be like a brother to him, Watkins feels very fortunate that he could fulfill his dream at an early stage. It was never his desire to enter into the music industry, but his love for music has led him to that destination. He is soon launching the project "Pain, Mental Health and Love" that will be a collection of songs with different emotions as is implied by the name and all will be a class apart.
"Making music was all I could think about. It was always more of my neighbor's dream to make it to the industry and I just liked to record, but he believed in me. It was more therapeutic than it was actually making music. For me it was like being able to listen to your diary speak," says Timothy.
Timothy's songs don't follow any particular genre according to him. He writes whatever he feels and tries to make his expression of feeling through his songs appealing to the listeners.
As an independent artist, he wants to be known for the songs he composes time and again. He feels if he will stop expressing himself in his songs, that day there would be no music by him at all. He wants to keep his songs genuine and real to the extent that vulnerable people like you and me who are facing some sort of conflict in our lives can easily surpass the emotions in his lyrics.
Honour Watkins (formerly known as Timothy Watkins) was born and raised in Fort Myers, Florida. Aaliyah's Four Page Letter was his very first work through which he came into limelight as an artist.
He has been through many highs and lows in his musical journey but keeping God first and his fighting spirit always lets him take this opportunity to improvise and make more and more music for the audience. He wants his fans to take him as a commoner only, a human with real feelings as all of us. According to him we all face ups and downs in life, we all make mistakes but the real challenge is who stands up on his feet withstanding all these mighty battles and comes out as a hero.
Watkins' latest project – "Pain, Mental Health and Love" will be out soon on many different platforms.
His song "Aaliyah's Four Page Letter" is a part of the above-mentioned project and available on YouTube.
Media Contact
Company Name: God Driven Quality
Contact Person: Timothy Watkins
Email: Send Email
Country: United States
Website: instagram.com/honourwatkins