Wedding sarees from kanchipuram available at kanjivaram silks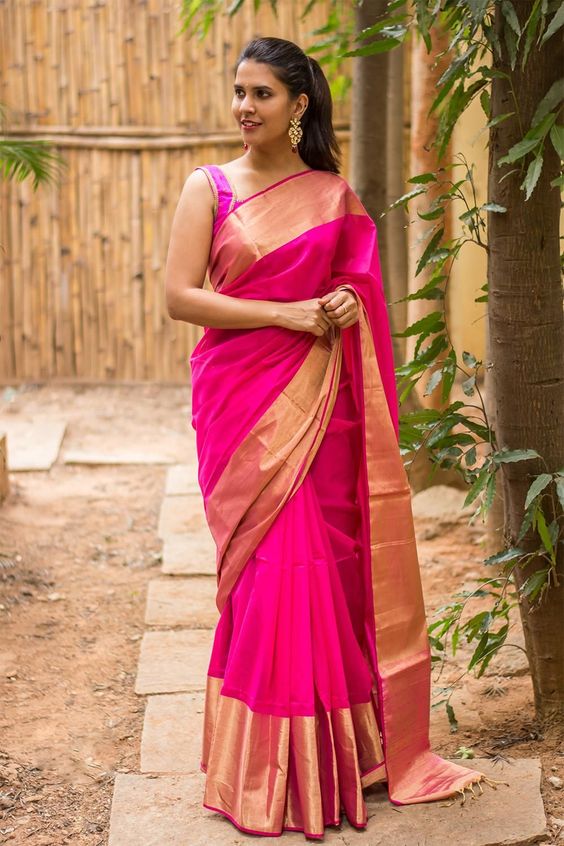 New South indian wedding sarees and silk sarees collections launched at kanjivaram silks for this wedding season through online and at their store located at Kanchipuram, Tamil Nadu.
Handloom saree industry has been badly affected by the current covid-19 pandemic, Most of the weavers have stopped saree production due to the closure of silk saree shops. Now with shops being opened, the weavers have resumed pure silk sarees production. Kanjivaram silks has launched the hand made indian wedding sarees collections made from the weavers of kanchipuram.
Indian wedding sarees are created with amazing designs and it is offered by our finest Indian designers and it is worth seeing all the hard work they put in, to provide a collection for the runway. There are numerous designers who are now working towards reviving India's handloom industry and to bring back the Indian wedding sarees into the limelight. Designers like Sabyasachi, Ritu Kumar, and Anita Dongre are known for their traditional designs and are bringing back Indian wedding silk sarees. We can see their love for handloom can be seen in their passion to revive these long-forgotten arts and it will also help the artisans survive easily in this contemporary world. Indian textile industry provides the second largest employer after agriculture. More than 70% of these weavers are women from different villages and India makes 95% of handwoven fabrics in the world. Every state of India has its own weave and they are world-famous due to their exceptional qualities, purity, and designs.
Fashion Industry has been going under evolution and there is a high demand from the customers for different types of designs, patterns, and fabrics. Fashion designers have come up with new ideas for designing kanchipuram sarees and wedding sarees. Indian wedding sarees signify Indian traditions and weddings are not complete without them.
Here are the designers who have taken up the job of reviving and popularising Indian wedding sarees and handlooms:
Gaurang Shah: Gaurang Shah is a Fashion Designer and textile revivalist who is known for infusing unique designs into traditional weaves. He has worked with numerous textiles like Patan patola, Tussar Kanchi, Organza Kanch, Khadi Kanchi, and Kanchi Kalamkari. He was the first Indian designer to showcase Kanjivaram sarees at the national level. He has also helped in the revival of the Jamdani weaver community.
Ritu Kumar: She is a Fashion Designer who has helped a great deal in the revival of the Indian handloom industry and is known for her work in Block-printing, Matka silk, and Bhagalpuri sarees. Indian wedding sarees by Ritu Kumar are fabulous and not to be missed in your trousseau. In 2016, she started the Banaras Revival Project in order to explore and protect the endangered art of silk weaving in Banaras.
Rahul Misra: Rahul Misra works with Traditional fabrics and weaves. He has helped in the revival of Banarasi silk, Daraz work, Chanderi, and Cotton handloom from Kerala. Indian bridal sarees and fabrics have got a new meaning through Rahul Misra as he has used these traditional fabrics to make his haute couture creations. When such ace designers revive the age-old craft of weaving, we can see a comeback of traditional Indian wedding sarees like Khadi, Chanderi, Ikat, and other fabulous fabrics.
Sanjay Garg: Sanjay Garg from Raw Mango is known for beautiful handloom silk sarees and he has played an important role in the revival of textiles like Chanderi silk, Mashru, and Brocade. He has given a contemporary and designer edge to these silk sarees and these sarees are a must for every girl's wedding functions.
Abraham and Thakore: This designer duo is well known for their work in handlooms and they have experimented with numerous Indian textiles like Banarasi brocades, Mangalgiri and Jamdani. Their signature style happens to be Black and white Ikat design that has gained immense popularity. The duo has highly popularised bridal silk sarees like Gujarat's Patan Patola and Odisha's double Ikat.
Anita Dongre: Anita Dogre has helped in the revival of Gota Patti craft and Banarasi brocade sarees. She collaborated with NGOs like the SEWA trade facilitation center and has worked closely with numerous artisans. Brides-to-be must buy Anita Dongre's Indian wedding sarees and look like a million bucks during her marriage.
Sabyasachi Mukherjee: About 10 years ago it was Sabyasachi Mukherjee who started the "Save the Saree" campaign to support the weavers from Bengal and Andhra Pradesh and started giving them constant work. Sabyasachi has done astounding work with handloom sarees made of Khadi, Banarasi, and Cotton. Anushka Sharma's beautiful red saree was designed by him and it has been an inspiration for numerous brides to be. Sabyasachi organized a special fashion show dedicated to Indian handicrafts and their revival.
Anju Modi: Anju Modi is the designer behind numerous elaborate bridal outfits and she is also known for the revival and use of handwoven textiles. She uses traditional techniques in designing all the costumes for films or for bridal wear and she has helped many artisans throughout India.
Sailesh Singhania: Sailesh Singhania is a textile revivalist who has preserved textile art and this revival has gone beyond the profession. The revival of handloom sarees is his full-fledged passion for the past two decades. He is working with more than 700 handloom weavers throughout India and supports the artisans weaving Kota, Pranpur, Gadwal, Pochampally, Uppada, and Pranpur so that they can earn well through weaving.
Payal Khandwala: She has given a contemporary edge to the traditional handlooms and is a top-notch fashion designer who is reviving Indian handloom textiles. She is making them common among the millennials of the world through her fabulous cuts on these traditional weaves. Her label uses color-blocked and eccentric textiles that are globally famous. Payal did not work with artisans on a season to season basis but provided them with a sustainable livelihood by taking care of their healthcare and basic needs.
These designers have taken up the noble work of reviving the good old Indian wedding sarees and you can do your part by buying them for your upcoming wedding. They will not only make you look stunning and beautiful but will help these artisans earn a sustainable livelihood. Indian wedding sarees are available in wonderful varieties like Kanjeewaram from Tamil Nadu, Gadhwal from Gujarat, Paithani from Maharashtra, Banarasi from Uttar Pradesh, Bhagalpur silk from Bihar or Maheshwari from Madhya Pradesh. These handloom wedding silk sarees are great hand-me-downs and can be passed on to generations. These are sustainable weaves that are evergreen as they never lose their luster if stored carefully.
Media Contact
Company Name: Kanchipuram Silk Sarees Store
Contact Person: Vamsee
Email: Send Email
Phone: 9677063537
Address:251-9 Gandhi Road, (next to petrol bunk)
City: Kanchipuram
State: Tamil Nadu
Country: India
Website: https://kanjivaramsilks.com