Geographic Atrophy Epidemiology Forecast to 2030

(Albany, US) DelveInsight has launched a new report on Geographic Atrophy Epidemiology
DelveInsight's Geographic Atrophy Epidemiology Forecast to 2030 report delivers an in-depth understanding of the disease, historical and forecasted Geographic Atrophy (GA) epidemiology in the 7MM, i.e., the United States, EU5 (Germany, Spain, Italy, France, and the United Kingdom), and Japan.
Geographic Atrophy (GA) is an advanced form of age-related macular degradation (AMD), which is characterized by progressive loss of visual function and is irreversible. It is defined by the presence of sharply demarcated atrophic lesions of the outer retina, resulting from loss of photoreceptors, retinal pigment epithelium (RPE), and underlying choriocapillaris.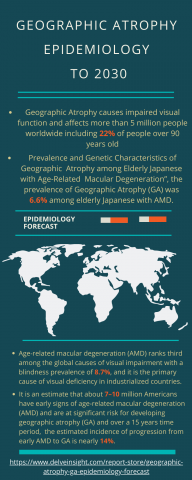 Request for free Sample page:- https://www.delveinsight.com/sample-request/geographic-atrophy-ga-epidemiology-forecast
Geographic Atrophy Epidemiology Perspective by DelveInsight
The GA epidemiology division provides the insights about historical and current patient pool and forecasted trend for each seven major countries. The GA epidemiology data are studied through GA possible division to give a better understanding of the Disease scenario in the 7MM.
The disease epidemiology covered in the report provides historical as well as forecasted GA epidemiology [segmented as Total Prevalent Cases of GA, Total Diagnosed Cases of GA, Total Diagnosed cases of GA by Age Distribution, Total Geographic Atrophy Cases by Visual Impairment, and Total Treated Cases of GA] scenario of GA in the 7MM covering United States, EU5 countries (Germany, France, Italy, Spain, and United Kingdom), and Japan from 2017 to 2030..
Geographic Atrophy Epidemiology
Some patients with age-related macular degeneration (AMD) will develop geographic atrophy (GA), which refers to regions of the retina where cells waste away and die (atrophy). Sometimes these regions of atrophy look like a map to the doctor who is examining the retina, hence the term geographic atrophy. The regions of atrophy result in a blind spot in the visual field. GA can affect one or both eyes, and a patient with GA in one eye is more likely to develop it in the other.
Key facts of the report
Geographic Atrophy causes impaired visual function and affects more than 5 million people worldwide, including 22% of people over 90 years old.
The prevalence of Geographic Atrophy (GA) was 6.6% among elderly Japanese with AMD.
Age-related macular degeneration (AMD) ranks third among the global causes of visual impairment with a blindness prevalence of 8.7%, and it is the primary cause of visual deficiency in industrialized countries.
Table of content
1. Geographic Atrophy Key Insights
2. Geographic AtrophyExecutive Summary
3. Geographic Atrophy Disease Background and Overview
4. Geographic Atrophy Patient Journey
5. Geographic Atrophy Epidemiology and Patient Population
6. Geographic Atrophy Treatment Algorithm, Current Treatment, and Medical Practices
7. KOL Views
8. Geographic Atrophy Unmet Needs
9. Appendix
10. DelveInsight Capabilities
11. Disclaimer
12. About DelveInsight
Related Reports
Geographic Atrophy (GA) Market Insight, Epidemiology and Market Forecast -2030
Geographic Atrophy (GA) – Pipeline Insights, 2020
Media Contact
Company Name: DelveInsight Business Research LLP
Contact Person: Yash Bhardwaj
Email: Send Email
Phone: +919650213330
Address:304 S. Jones Blvd #2432
City: Las Vegas
State: NV
Country: United States
Website: https://www.delveinsight.com/