A Historic First at Harvard Square's Filipino American Festival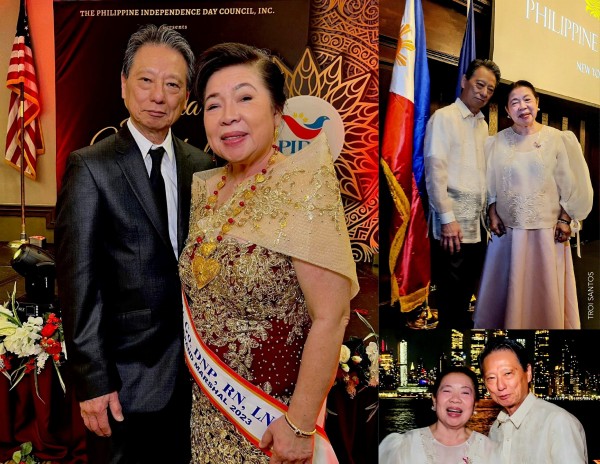 Celebrating Filipino American pride, Dr. Dely Po Go, a revered figure in the Fil-Am community, and her cherished spouse, Harry Go, are set to make history as the first Hermana and Hermano Mayor of Harvard Square's Filipino American Festival slated for Sunday, October 8th, 2023, at Harvard Square, Cambridge, MA.
The prestigious roles conferred upon Dr. Dely Po Go and Harry Go as Hermana and Hermano Mayor follow after Dely's exceptional contributions as the first Filipino American to hold the title of Grand Marshal of the 125th Philippine Independence Day parade on two continents, having served in both New York City and Milan, Italy. In addition to these achievements, she was also Grand Marshal for PAFCOM's 2023 Philippine-American Friendship Day parade in New Jersey. Throughout the remarkable journey that led her to this pinnacle of recognition, Harry Go has been a constant presence by her side, offering unwavering and exceptional support that has served as a testament to the enduring partnership that binds them.
This honor carries deep significance, as it coincides with Filipino American History Month and is the result of a collaborative effort with the Harvard Square Business Association's 44th Annual Oktoberfest and Honk! Parade & Festival. Together, these events echo the resounding theme of "Reclaim our Filipino Heritage," emphasizing the cultural richness and unity of the Filipino-American community.
The importance of this year's parade theme, "Reclaim our Filipino Heritage," resonates with celebrating a significant milestone in cultural inclusivity and academic diversity. Harvard University is stepping into a historic moment, introducing the Filipino language into its curriculum for the first time in its nearly 400-year history. This remarkable advancement towards cultural inclusivity is underscored by the recent welcome extended by the institution to Lady Aileen Orsal, who graduated summa cum laude from Cavite State University to become the pioneer preceptor for Harvard's Filipino language course.
This remarkable festival signifies the apex of cultural exchange, seamlessly blending Filipino traditions with the vibrancy of the Harvard Square Business Association's 44th Annual Oktoberfest and Honk! Parade & Festival. Together, they create a harmonious tapestry of cultures, embracing shared values of unity, diversity, and heritage.
One of this year's festival highlights is the spirited march of Filipino American cultural groups, united under the "Reclaim our Filipino Heritage" banner, resonating with the essence of the 2022 Honk! The theme of the festival is "Reclaim the Streets."
The 2023 festival has been forged through strategic collaborations and partnerships with esteemed institutions, including Harvard University in the Community, the Philippine Consulate General in New York, The Asian American & Pacific Islanders Commission, Harvard Graduate School of Arts and Sciences, Harvard-Radcliffe Asian American Association, and Harvard Philippine Forum. With the contributions of media partners, international and local artists, and distinguished guests, the festival's magnificence is reaching new heights.
The driving force behind this cultural extravaganza is the Harvard Square Philippine American Alliance, a non-profit organization. Their commitment to fostering connectivity, exposure, and interactions among the younger generations of Filipino Americans is pivotal in enriching community diversity, equity, and inclusion efforts. Their unwavering dedication to promoting Filipino Americans through networking, outreach, research, and ensuring the prosperity of all involved is truly commendable.
In the words of the Harvard Square Philippine American Alliance, "Our commitment to this organization and our community is matched by an enthusiastic approach to each partnership and alliance that we create." They extend a heartfelt invitation to entities, corporations, and partners to unite to empower Filipino Americans to thrive and prosper.
Media Contact
Company Name: Philippine Daily Mirror
Contact Person: Troi Santos
Email: Send Email
City: Staten Island
State: NY
Country: United States
Website: www.philippinedailymirror.com